We All Start Somewhere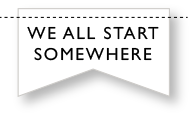 Crafting is a journey and we all start on the path in different places. Some of us are beginners, never having crafted before. Some of us start on our paper crafting journey after years of loving other crafts such as scrapbooking, knitting or sewing. The rest of us have been paper crafting for years and just want something new! Wherever you have joined us from, we have products that will make you feel inspired and excited about creating!
Click the level you are most comfortable with to find the perfect products for you!